"From theory to reality – through focus, precision and scientific proof"
Manager Project Engineering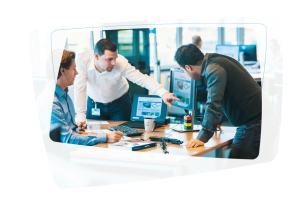 As a Senior Global Industrial engineer you will be part of a global team, defining how new roof systems are industrialized. In this role you will be directly responsible for translating a new product design into a competitive production solution, focusing on CAPEX and labor. For new programs, you will be responsible from the sales quotation phase until start of production. Part of your job is to track on a global level labor, investments and technology for all manufacturing processes. You will advise management on technical and strategic topics. Another part of your job is to standardize the way of working around labor and CAPEX in line with developed standards. As part of the Advanced Manufacturing Engineering team (AME), you will work closely together with Design Engineering, Business Development and Industrial engineers from the AME department in all regions. You will report directly to our AME Manager Industrial Engineering.
Your main tasks and responsibilities are:
Translate product design to industrialization concept, and advise on Design For Assembly;
Develop assembly line concepts, calculate line labor for all new programs;
Develop and verify labor standard for the different roof types, and align on global level;
Support the regional AME departments regarding labor balancing and ergonomic standards;
Continuous development, documentation and maintenance of labor, investment and ergonomic standards;
Enforce standardized work practices and internal procedures throughout the regions;
Ability to identify project risks and develop appropriate counter measures to reduce or offset the risk identified;
Report information about labor and investment costs to internal executive management;
Advice regional and global management on topics related to new product industrialization.
What do we expect from you?
Bachelor or Master degree in preferably Mechanical engineering, Industrial engineering or equivalent;
At least 5 years' experience as member of an Industrial engineering team preferably in an automotive environment;
Cost, fact and analytical driven person, with attention for detail;
Good understanding of LEAN to be able to develop best practice flow design;
Understanding of financial and accounting terms and processes;
Demonstrated problem solving skills and flexibility to adapt to changes quickly;
You are an organized and professional demeanor with demonstrated leadership ability;
You are able to think broadly and build relationships at different levels;
Excellent written, oral, and presentation communication skills in English. Dutch and German would be a plus.
What can you expect from us?
Attractive working conditions and self-development opportunities.
Short procedures, fast decision making and open communication structures.
Friendly and informal atmosphere.
Innovative leader with a strong drive to win!
FOCUS - TRANSPARENCY - ONE INALFA and RESPECT are core values within our company.
Location
Venray, De Amfoor, 2
Time Type
Full time
Contact Person
Nicole Haacke
Engineering opportunities you might be interested in... 0