"From theory to reality – through focus, precision and scientific proof"
Manager Project Engineering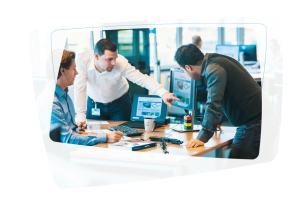 To support our future plans and to further strengthen our operations department we are looking for a strong Senior Industrial Engineer. You assure effective application of Lean Six Sigma methods in problem solving leads, continuous improvement projects and facilitate in Kaizen events. You will transfer and develop knowledge of Lean Six Sigma within operations and identify, design, develop and implement efficiency improvements to the different production lines. You're the spider in the web for the line managers, line coordinators, Production employees and Maintenance department and you will report to the Manager of Engineering.
Your main tasks and responsibilities are:
Participate in LEAN Projects and develop yourself from a team member, to a key person, to a project leader over time.
Support Operations Manager in budgeting process and overall plant layout development;
Support development of lean logistics flow throughout the facility;
Foster continuous improvement process with leading principles of Safety, Quality, Delivery & Cost;
Drive manufacturing cost reduction initiatives to meet production cost targets;
Optimize existing assembly and logistics operations and improved ergonomics for shop floor employees;
Develop & implement new best practices for roof assembly processes and logistics material flow;
Develop and select the most efficient and cost effective tools for assembly processes;
Support operations management to resolve production & quality problems via root cause analysis;
Support the Lean Six Sigma Continuous Improvement program by participation in Kaizen events and application of Lean Engineering principles;
Provide industrial engineering support for new business opportunities and launches;
Support the maintenance of workflow/instructions for operations;
Execute process analysis to drive incremental operational improvements.
What do we expect from you?
You have a finished M.Sc. / B.Sc. in Engineering, Business Engineering, Industrial Engineering or relevant;
Six Sigma Green- or Black Belt (DMAIC, Experience with FMEA, 8D, PDCA, SPC, A3, Kaizen);
At least 5+ years' relevant experience in automotive industry (ISO 16949, VDA 6.3) or other assembly industries;
Solid knowledge about Lean production principles, material flow optimization and continuous improvement tools and proven proficiency in Change Management and Lean Manufacturing;
A broad dynamic range in communication skills on different levels in English and Dutch;
A hands-on mentality and are familiar in the concept "leading without authority";
Disciplined and results-oriented team player with the ability to adapt quickly;
High energy level, pragmatic, stress resistant, flexible;
Process oriented team player with a can do mentality, eager to learn and prepared to attend training courses.
What can you expect from us?
Attractive working conditions and self-development opportunities.
Short procedures, fast decision making and open communication structures.
Friendly and informal atmosphere.
Innovative leader with a strong drive to win!
FOCUS - TRANSPARENCY - ONE INALFA and RESPECT are core values within our company.
Location
Venray, De Amfoor, 2
Time Type
Full time
Contact Person
Nicole Haacke
Engineering opportunities you might be interested in... 0