"Lead your project team with authority, confidence and speed."
Pieter Rijs
Project Manager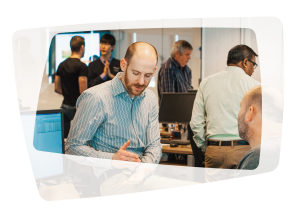 As a Technical Project Manager / Launch Manager at Inalfa Roof Systems you will lead roof system development projects for future car models of our OEM customers. Within the Operations Customer Focus Team (CFT) you are responsible for implementing and improving the product fabrication layout and assembly processes to assure a continuous flow in assembly line to meet lead time and efficiency targets in compliance with product design, BOMs, standards and customer requirements. It is your challenge to lead a cross functional project team to meet Quality, Cost and Delivery targets of the project. During the first gates of our Product Realization Plan (PRP) the focus will be on Product Development. During the 2nd phase of the PRP, focus will be more on the operational side. You will focus on Project Management of the 2nd phase; from industrialization to volume production. You will report directly to the Plant Manager.
Your main tasks and responsibilities are:
Drive change implementation activities to meet or exceed program timing milestones.
Work together with the Program Manager in driving Production Launch activities.
Take overall project responsibility for designing, commissioning and launching new manufacturing lines.
Support the specification engineers in creating the DFA/DFM, Line Layout and PFMEA in the PRP process and lessons learned.
Provide clear updates on status and recovery plans as necessary.
Clear, frequent communication between cross-functional teams to Material, Training, Process development, and Equipment implementation targets.
Drive implementation of material flow from warehouse to line (Assembly Line Balancing and Line Feeding).
Ensure Bill of Materials (BOM) accuracy and modifications based on Continuous Improvement activities.
Involve the Operations department to capture all manufacturing issues in the early project phase.
What do we expect from you?
Bachelor's degree in an engineering discipline or Master's degree in engineering.
Minimum of 5-10 years of professional experience in production / operations area. Concrete experience in a Manufacturing Engineering position is highly desired.
Relevant Project Management experience, preferably in the automotive industry.
Extensive experience in launching programs into serial production.
Strong written and verbal communication skills in English and preferably in Dutch.
Team player, ability to work in a fast-paced environment and with cross-functional teams.
Excellent interpersonal and people skills and a flexible approach in order to achieve business goals.
What can you expect from us?
Attractive working conditions and self-development opportunities.
Short procedures, fast decision making and open communication structures.
Friendly and informal atmosphere.
Innovative leader with a strong drive to win!
FOCUS - TRANSPARENCY - ONE INALFA and RESPECT are core values within our company.
Location
Venray, De Amfoor, 2
Time Type
Full time
Contact Person
Sjoerd van Dijk
Project management opportunities you might be interested in... 0