"At Inalfa quality is everywhere,  every day"
VP Global Quality & Operational Excellence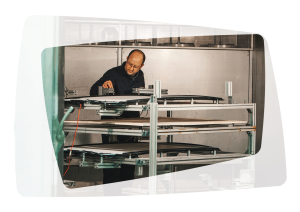 As Global Quality Systems Specialist, you create and revise process landscapes and procedures for all the phases of the business processes at Inalfa Roof Systems on a global scale. It is your responsibility to standardize global documentation. You will also give direction to set up annual audit plannings globally and will coach and support internal and external audits in order to bring the organization to a higher level. For In this role, you are located in the Global Quality and Operational Excellence organization and you report directly to the Director Global QMS, located at our HQ in Venray, the Netherlands
Your main tasks and responsibilities are:
Give direction to, facilitate, monitor, and correct process owners, regional facilitators, Subject Matter Experts (SME's) and team members to determine requirements on QMS related documented information (e.g. landscapes, procedures, instructions, training material, forms and templates) on IATF 16949, ISO 14001 and OHSAS 18001 schemes;
Create standards, policies, procedures, work instructions and training manuals;
Revise procedures and manuals if necessary;
Define and interpret process flow diagrams and operating manuals;
Break down complex processes into logical steps;
Coordinate, perform and support internal process audits on global level with main focus on improvement of processes, with specific attention to VDA 6.3 and IMS audits. Reach 'VDA 6.3 proof' status on projects is of high importance;
Perform witness audits in order to coach and bring audit teams to a higher maturity level;
Lead problem solving activities planning;
Coach, mentor and train employees in quality methods and tools;
Organization of system quality trainings, implementation of customer specific requirements;
Responsible for the internal statndardization and application of global standards within the Inalfa organization.
What do we expect from you?
You have a finished BSc degree in Mechanical Automotive Engineering or other relevant;
At least 2 – 7 years of work experience within Quality and 2 years work experience in Automotive;
You have experience as an (Lead) auditor ISO 9001 and IATF 16949;
VDA 6.3 audit experience with Certified VDA 6.3 Process Auditor as qualification;
Knowledge about ISO/TS Core tools like APQP, PPAP, MSA, SPC, FMEA, Control Plan;
We expect you to have relevant experience in developing and revising procedures;
As a professional you have a service/customer oriented approach with good analytical skills. You have strong written and verbal communication skills and you are able to share your knowledge and experience with others;
You possess good audit and coaching skills and a flexible approach in order to realize business goals;
Good command of the English language, both verbal and written.
What can you expect from us?
Attractive working conditions and self-development opportunities.
Short procedures, fast decision making and open communication structures.
Friendly and informal atmosphere.
Innovative leader with a strong drive to win!
FOCUS - TRANSPARENCY - ONE INALFA and RESPECT are core values within our company.
Location
Venray, De Amfoor, 2
Time Type
Full time
Contact Person
Sjoerd van Dijk