"At Inalfa quality is everywhere,  every day"
VP Global Quality & Operational Excellence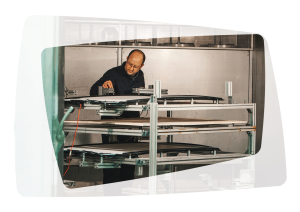 Position Summary:
Plans and directs activities both internally and at suppliers associated with the development, construction and verification of ongoing production to identified quality standards. Responsible to develop and maintain systems required to continuously improve the Inalfa Roof System supplier base through systematic review and improvement. This, coupled with product review and enhancement to supplier processes, are designed to provide Inalfa with the best product available at a competitive price
The position will be focused acting as a subject matter expert in commodities and/or projects of Supplier related tasks.
Scope:
•Review the purchases made of the raw materials or even semi-finished product and point out any misfits and irregularities in the production process. Form a chain between the supplier and the operation department.
•The Supplier Development Engineer is required to support production by pointing out improvement opportunities in the production line and the supply chain. They have to work with suppliers and have to lay down any corrective action plan to rectify and development in the process, through which both quality and productivity of the organization can be enhanced.
•Facilitate the escalation of unresolved supplier quality issues within assigned projects and suppliers
•Facilitate root cause analysis and corrective actions of supplier quality issues utilizing problem solving, supplier score-carding, and PPAP.
•Perform on-site supplier visits for root cause analysis and verification of correction actions of supplier quality issues.
Your main tasks and responsibilities are:
Specific Requirements
Educational level/Experience: Bachelor's degree (B.A. / B.S.) from four year college or university;
2 years experience in Quality or equivalent combination of education and experience.
ASQC certification preferred
Intimate knowledge of PPAP, PFMEA, SPC, PSO, APQP, and QSA (VDA), Control Plan, Containment Plans, GD&T, Check Fixtures, Gage R&R, AAR
Familiar with advanced problem solving skills (Red 'X' , Six Sigma, etc) to resolve difficult problems

Functional Competences and skills

Provide guidance and understanding of Inalfa expectations and objectives to suppliers.
Develop Inalfa-Supplier team relationships to work in release of new programs as well as resolve current product issues
Must be familiar with ISO 14001/ TS16949
Participates in design reviews for advance programs
Manage quality issues associated with purchased parts including initial supplier contact, containment and permanent corrective action cycle. May include travel to supplier locations both domestically and outside US (Europe, Asia, Mexico & domestic travel, etc)
SQD will conduct audits, evaluate performance, develop action plans and provide recommendations for the purpose of improving quality performance at suppliers.
Responsible for PPAP process for engineering changes to purchased parts in production.
Provide quality inputs to Engineering Change Process.
Primary responsibility for executing Tool Transfer Procedure resulting in a seamless transfer of business to the new location with no impact to production.
Responsible for participating in New Supplier Audits to qualify new suppliers to do business with Inalfa.
Familiarity with OEM systems (Phased PPAP, PSO, GQTS, B2B,etc.)
Willing to make and/or give input for continuous improvement on IRS processes (in the team, local organization and globally)
Continuously improve supply base
Projects Focus Competences and skills
IRS internal window person for all supplier APQP progress
Liaison between team & C-SQD
Liaison with QAM
KOR Lead,
PRP 7.0 owner
Project specific TQM tracking
Project Maturity Lea
Part PPAP status
Tool status
Global Launch coordination,
Global SQD project meetings
LRR Lead, & Coordinator,
Project Escalation Coordinator
Infor10
IQC setup
Weekly project status reporting
Program Handover 90+ SOP according to Handover checklist
Commodity Focus Competences and Skills
Supplier Audits pertaining to Commodity

Supplier APQP
Supplier KOR
Supplier PPAP
Post PPAP Activity:
Supplier change management review & approval
Attend weekly SQE/C-SQD meeting (NCR/ Spills/ D-rated and SQE/C-SQD harmonization),
Supplier Elevation:
Support SQE on design related issues
Commodity expertize
What do we expect from you?
What can you expect from us?
Attractive working conditions and self-development opportunities.
Short procedures, fast decision making and open communication structures.
Friendly and informal atmosphere.
Innovative leader with a strong drive to win!
FOCUS - TRANSPARENCY - ONE INALFA and RESPECT are core values within our company.
Location
Frankfurt, Waldeckerstrasse 5
Time Type
Full time
Contact Person
Lisa Hansmann