"At Inalfa quality is everywhere,  every day"
VP Global Quality & Operational Excellence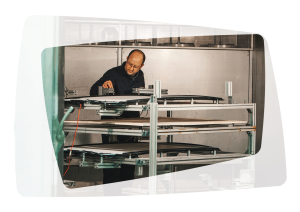 • Implementation of tasks in the area of ​​health and safety at the production plant in accordance with legal and corporate requirements,
• Responsibility for curing and implementing activities related to environmental protection at the plant,
• Initiating and undertaking preventive actions to prevent accidents, keeping records and investigating after accidents,
• Conducting training for employees,
• Responsibility for supervising and implementing activities related to fire protection at the plant,
• Managing documentation related to the health and safety area,
• Development and introduction of procedures, instructions and regulations related to health and safety,
• Risk analysis,
• Conducting control of working conditions,
• Reporting of required data to indicators (eg accident rate).
Your main tasks and responsibilities are:
Job requirements:
Education: Master Degree in the field of health and safety (or postgraduated studies)
Experience: 5-7 years in a similar position in a production company
Skills: ability to work under time pressure, practical knowledge in the field of applicable OHS and fire safety standards, goal orientation, developed communication and interpersonal skills, ability to work with the team, good work organization, discipline, initiative, knowledge of OHSAS, IATF, ISO140001, knowledge of English.
What do we expect from you?
What can you expect from us?
Attractive working conditions and self-development opportunities.
Short procedures, fast decision making and open communication structures.
Friendly and informal atmosphere.
Innovative leader with a strong drive to win!
FOCUS - TRANSPARENCY - ONE INALFA and RESPECT are core values within our company.
Location
Września, Białężyce 41A
Time Type
Full time
Contact Person
Katarzyna Zarębska