"Always behind the scenes, always ahead of change"
Manager Recruitment Inalfa Europe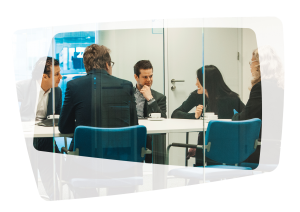 Supports the develop and maintenance of the global SCM landscape and Business Processes for customer service, planning, warehousing, Transportation and supply chain engineering in close cooperation with the regional key users, global IT and global Quality.
The position helps to ensure that the global SCM business processes are standardized, documented in Inalfa global quality system and communicated globally.
The objective is to have the best practices documented and standardized across the globe. This position supports across the regions and manages the teamwork required to get the processes not only documented but also trained and sustained with regional key users.
Furthermore the Global SCM Material & Production Planning team will deploy a training program and audit program in close cooperation with the key users and global quality.
This position will continuously optimize the INFOR system to make it more user-friendly, efficient and accurate and look for ways to minimize the financial variances. This requires strong teamwork with IT and key users and continuously updates of the procedures.
Last but not least this position runs SI&OP to align demand and supply between customer and supplier on short and mid term
Your main tasks and responsibilities are:
Supports the documentation of global SCM business processes using INFOR ERP system in the area of customer service, planning & Inventory control, Warehousing and Transportation
Support the global functional leader in SCM business processes, providing expertise and leadership in instituting standards and managing the SCM procedures.
Develop training material for the key users in the region
Train key users in the region
Supports the development of the SCM chapter in the IMS audit
Deploy an internal audit program for key users in the region
Optimize planning parameters and system configuration LN Infor
Executes global mid term planning, SI&OP process and plant and supplier capacity management.
Perform the role of main SME for Purchasing Capacity planning
Setting up an analysis tool together with Business development and Logistics
Checks together with buyer the actual capacity situation with supplier base
Prepare for monthly regional capacity planning meeting with purchasing and sales
Responsible for global capacity and constraint management
Coordinates global Breakpoints / effective dates
Manages global bottlenecks
What do we expect from you?
Educational level /Experience: Masters degree (Logistics or Industrial Science) with 7+ years experience or Bachelor with 10+ years experience
Has experience with SCM business processes and IT
Extensive in customer service, planning, warehousing services and supply chain engineering
Global experience preferred
Experience with global process documentation and training
Computer literate with good working knowledge on Microsoft Office (Excel, Word, PowerPoint Presentations, Acces)
Good communication and Training skills
Is able to communicate clearly and effectively towards suppliers and business (e.g. explain business/ supplier needs, gives follow up on actions, escalates in time)
Pays attention to details and delivers high quality
Has an open mind for new developments
Works effectively in team and cooperates
Convincing
Self-reliant
Analytical, applies quality tools
Pragmatic
Critically reflects on own behavior
Is recognized as logistics expert and advises regional managers on supply chain issues
Is able to facilitate teams in own area and drives team development
Is willing to travel
What can you expect from us?
Attractive working conditions and self-development opportunities.
Short procedures, fast decision making and open communication structures.
Friendly and informal atmosphere.
Innovative leader with a strong drive to win!
FOCUS - TRANSPARENCY - ONE INALFA and RESPECT are core values within our company.
Location
Venray, De Amfoor, 2
Time Type
Full time
Contact Person
Sjoerd van Dijk