"From theory to reality – through focus, precision and scientific proof"
Manager Project Engineering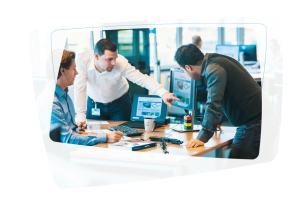 Manufacturing Engineer works in Engineering department and reports directly to the Engineering Manager.
Your main tasks and responsibilities are:
Determination of process design and translation of product to process parameters
Support on development and production of equipment and gauges from suppliers
Capability analysis and trend monitoring
R@R (process qualifications and specifications)
Provide/modify product documentation for production of new projects and changes
Document control of standardized work instructions
Support of feasibility analyses and development of new processes
Initiation of process FMEA and participation
Participating on 8D and problem solving
Set, monitor and evaluate Process parameters (capability study)
Participation for machine troubleshooting
Evaluation of material and product packaging
Co-operate with Control Plan maintenance
Flow and line balancing optimization
Value stream mapping
Co-operate with Measurement system analyses and evaluation
Support on H&S procedures
What do we expect from you?
English – communicative in speech and writing
Higher technical education (mechanical engineering)
Automotive industry working experience
Green belt/6-Sigma problem solving – certificate not required, working knowledge
5S and Standard work – working knowledge
FMEA – good working knowledge
VDA requirements – good working knowledge
MS Office - advanced
What can you expect from us?
Attractive working conditions and self-development opportunities.
Short procedures, fast decision making and open communication structures.
Friendly and informal atmosphere.
Innovative leader with a strong drive to win!
FOCUS - TRANSPARENCY - ONE INALFA and RESPECT are core values within our company.
Location
Września, Białężyce 41A
Time Type
Full time
Contact Person
Katarzyna Zarębska
Engineering opportunities you might be interested in... 0