"From theory to reality – through focus, precision and scientific proof"
Manager Project Engineering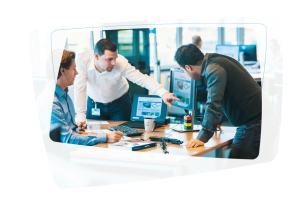 Would you like to work on the development of roof systems for future car models together with some of the market leaders in the automotive industry? Inalfa Roof Systems is a world leading supplier for OEM automotive roof systems and still growing strong. Are you ready to grow with us?
(Senior) Embedded Software Engineer
As (Senior) Embedded Software Engineer, you will work on the Embedded Software for future car models of our customers. Together with colleagues, you form an international team and work on the complete software lifecycle: requirements, design, implementation and testing of the software. Your role is to work on a software platform that will be the interface of the roof system with the vehicle. The software platform needs to fulfill both the Inalfa and customer requirements and comply with the demanding automotive quality standards and processes. What are your main tasks and responsibilities as (Senior) Embedded Software Engineer?
 Write and maintain requirements;
 Create detailed designs and support with creating software architecture;
 Analyze the available options for make or buy decisions;
 Use a Model Based development approach with Simulink and automatically generate the code;
 Program or integrate reusable components in C: low level drivers, protocol stacks, diagnostics, bootloader;
 Create test cases and perform tests;
 Document the software including presentations for both internal and external use;
 Support the team with setting up a proper development environment by selecting tools, writing processes, performing reviews and creating plans.
What do we expect from you?
 Experienced Engineer with 5-10 year (international) experience in automotive software development (OEM / First Tier Supplier).
 You have a (software/electronics) degree on a MsC or BsC level.
 Experience with C and and Matlab Simulink.
 Knowledge of automotive software standards and processes like Automotive SPICE and ISO 26262, protocols like CAN, UDS and tools like Vector and Mathworks (Simulink).
 Knowledge of software verification tools like Polyspace or QAC and automating test and daily builds
 As a professional you have a service/customer oriented approach with good analytical and organizational skills. In your work you focus on results and you are able to manage your planning and set priorities.
 As the automotive industry is focused on Quality you are as well. Therefore you bring good problem solving skills with a pragmatic and pro-active approach.
 It is important to have good communication skills in English and preferably Dutch and German.
 Willing to travel to Inalfa USA regularly and occasionally to other locations.
About us
Inalfa Roof Systems designs, develops and manufactures sunroofs and open-roof systems for the automotive industry. Our customers are BMW Group, Daimler, Chrysler Group, Ford, General Motors, Volkswagen, Audi, Volvo, Citroën, Chery, Geely, Hyundai Kia, Land Rover, Renault, Nissan and others. Inalfa Roof Systems Group is headquartered in Venray (Limburg), the Netherlands, and has a global footprint with facilities in Europe, Asia and the America's.
What we offer you
 Attractive working conditions and Self Development Opportunities.
 Short procedures, Fast decision making and Open Communication structures.
 Collaborative and Informal Atmosphere.
 Working at an innovative leader with a strong drive to win!
FOCUS – TRANSPARENCY – ONE INALFA and RESPECT are core values within our company.
What can you expect from us?
Attractive working conditions and self-development opportunities.
Short procedures, fast decision making and open communication structures.
Friendly and informal atmosphere.
Innovative leader with a strong drive to win!
FOCUS - TRANSPARENCY - ONE INALFA and RESPECT are core values within our company.
Location
Venray, De Amfoor, 2
Time Type
Full time
Contact Person
Coen Michels