"From theory to reality – through focus, precision and scientific proof"
Manager Project Engineering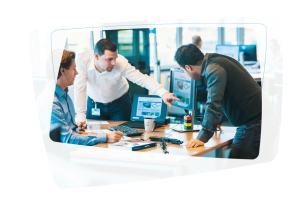 Develops improved or new designs for automotive sunroof modules and roof systems or modifies existing software for production vehicles, and directs building, modification, and testing of products by performing the following duties. Ensures that the product design meets all customer and Inalfa Roof Systems specifications.
Your Main Tasks and Responsibilities Are:
Coaching and guiding the software team, existing of Software Engineers, Embedded Software Engineers and a Software Architect.
Responsible for assigning and balancing the work packages amongst the team.
Make final decisions and prioritization for feature sets for each software release.
Support the software developer by facilitating resources and managing Supplier / Customer relations.
Define the software development principles, guidelines and standards to ensure compliance with SPICE and other software Process Improvement Models and create templates to support this process.
Audit Embedded software code for quality and robustness.
Develop software for 8/16/32-bit microcontrollers (NEC, Mitsubishi, Renesas, Microchip, TI, Freescale and Infineon).
Develop software following the automotive standards, for various industry standard interfaces such as SPI, I2C, SCI, UART, CAN, OBD-II and LIN.
Debug and audit performance analysis using tools such as ICE Emulator, PC Emulator, Oscilloscope, Logic Analyzer, Signal Generator, bus monitor, CAN case.
Lead in the implementation of ISO 26262/ASIL process/rating experience/knowledge required (however no certifications expected).
Safety strategy of power electronics or DC motors.
Analyzing the CAN log data and determining the root cause of software bugs.
Write End of Line test script experience in Vector tooling: CAPL, CANoe, CANanalyzer.
Create, edited and maintain technical documentation, including SRD, design documents, validation documents, OBD certification document, FMEA and test procedure.
Develop device drivers of EEPROM and Flash IC using SPI bus.
Flash over CAN and LIN design and development.
What Do We Expect From You:
Bachelor or Master degree in electrical engineering, computer engineering or computer science;
5-10 years' experience in Software Engineering and at least 5 years' managerial experience.
Several years of experience in the automotive industry and/or training would be a plus.
Ability to work read, analyze and interpret technical procedures and to work with mathematical concepts.
Must be able to create, test, validate, and release different aspects of functional software.
Capable to define problems, collect data, establish facts, and draw valid conclusions.
Ability to utilize software languages: C/C++, Matlab/Simulink/Stateflow, GCC Compiler, Vector CAPL scripts, dSPACE, Assembly.
Strong analytical skills and communicational skills in English (fluent in Chinese (mandarin) would be a plus).
What can you expect from us?
Attractive working conditions and self-development opportunities.
Short procedures, fast decision making and open communication structures.
Friendly and informal atmosphere.
Innovative leader with a strong drive to win!
FOCUS - TRANSPARENCY - ONE INALFA and RESPECT are core values within our company.
Location
Venray, De Amfoor, 2
Time Type
Full time
Contact Person
Coen Michels