"Produce roof systems of the highest quality, in a safe environment, on time and at the lowest cost"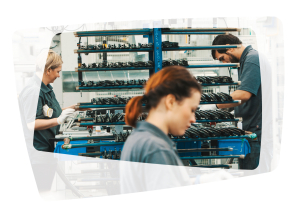 Job Title: Sr. Production Supervisor
Department: Operations
Reports To: Production Manager
FLSA Status: Exempt
SUMMARY
The Production Superintendent position directs and coordinates, through direct report supervisory personnel on the off shifts, manufacturing activities utilizing his/her knowledge of product function, production methods, procedures and machine and equipment capabilities.
ESSENTIAL DUTIES AND RESPONSIBILITIES include the following. Other duties may be assigned.
Plan and direct production activities on the off shifts and establish production priorities for products consistent with effective operations and cost factors in conjunction with the Production Manager.
Coordinate production activities with production manager, maintenance, and quality control activities to obtain optimum production and utilization of personnel, machines, and equipment on the off shifts.
Ensure on a daily basis all Inalfa standards and customer commitments (ie: Safety, Waste reductions, output, and on-time delivery) are followed within the plant on the off shifts.
Review and analyze production reports (OEE, downtime, waste, etc.) for off shift operations to determine causes of nonconformity with product specifications, and/or operating or production problems and escalate to Production Manager.
Prepare and submit reports as required by the Production Manager.
Collaborate with and assist the Production Manager in the development and implementation of operating methods and procedures designed to eliminate operating problems and improve product quality for a seamless operation over all shifts.
Drive continuous improvement initiatives on the off shifts; monitor all control procedures, recommending improvements to the Production Manager as appropriate.
Revise production priorities as needed as a result of equipment failure, operating problems, or last minute customer demands in conjunction and with oversight from Production Manager.
Supervise the facility's production supervisors on the off shift; responsible for employee training and development.
Establish individual and group goals and accountabilities and evaluate work performance for direct reports.
Build an effective partnership with plant hourly employees in an effort to improve overall plant production.
Partner with Human Resources to ensure proper handling of employee relations issues in accordance with Plant and Corporate policies and procedures
Partner with Plant Safety group to maintain and enforce the safety program for the department; assure compliance with OSHA and Inalfa regulations, programs and guidelines.
Lead and participate in special projects/teams as required on the off shifts.
SUPERVISORY RESPONSIBILITIES
Directly supervises the employees in the Production departments including supervisors and subordinates. Carries out supervisory responsibilities in accordance with the organizations policies, applicable laws and values.
IATF 16949/ ISO14001 / ISO 45001 RESPONSIBILITIES:
The IATF16949and ISO14001 responsibilities listed below are required for this position. Adhere to all IATF16949 (Quality) / ISO14001 (Environmental) / ISO 45001 (Health & Safety) procedures as related to the operations department function.
QUALIFICATIONS
To perform this job successfully, an individual must be able to perform each essential duty satisfactorily. The requirements listed below are representative of the knowledge, skill, and/or ability required. Reasonable accommodations may be made to enable individuals with disabilities to perform the essential functions.
EDUCATION AND/OR EXPERIENCE
Bachelor's degree or equivalent; or 10 years of automotive manufacturing management experience and/or training; or equivalent combination of education and experience.
Advanced degree in business or technical field is preferred.
Knowledge of Lean manufacturing strategy and concepts.
LANGUAGE SKILLS
Ability to read, analyze, and interpret general business periodicals, professional journals, technical procedures, or governmental regulations. Ability to write reports, business correspondence, and procedure manuals. Ability to effectively present information and respond to questions from groups of managers, clients, customers, and the general public.
MATHEMATICAL SKILLS
Ability to work with mathematical concepts such as probability and statistical inference, and fundamentals of plane and solid geometry and trigonometry. Ability to apply concepts such as fractions, percentages, ratios and proportions to practical situations.
REASONING ABILITY
Ability to define problems, collect data, establish facts, and draw valid conclusions. Ability to interpret an extensive variety of technical instructions in mathematical or diagram form and deal with several abstract and concrete variables.
PHYSICAL DEMANDS:
The physical demands described here are representative of those that must be met by an employee to successfully perform the functions of this job. Reasonable accommodations may be made to enable individuals with disabilities to perform the essential functions.
While performing the duties of this job, the employee is regularly required to stand and walk for periods up to 12 hours; use extremities repetitively to manipulate and grasp objects, vibratory tools, or controls; reach with hands and arms. The employee is occasionally required to stoop, kneel, crouch, talk and hear. The employee must be able to repetitively lift, carry, push, pull up to 50 pounds. Specific vision abilities include close vision, color vision, peripheral vision, depth perception and the ability to focus.
WORK ENVIRONMENT:
The work environment characteristics described here are representative of those an employee encounters while performing the essential functions of this job. Reasonable accommodations may be made to enable individuals with disabilities to perform the essential functions.
This employee regularly works in a manufacturing environment with exposure to moving mechanical parts, moving vehicles, and chemicals. The noise level in the work environment is usually moderate. The environment is not climate controlled and temperature may vary. Additional personal protective equipment may be required to be worn in the assigned area.
What can you expect from us?
Attractive working conditions and self-development opportunities.
Short procedures, fast decision making and open communication structures.
Friendly and informal atmosphere.
Innovative leader with a strong drive to win!
FOCUS - TRANSPARENCY - ONE INALFA and RESPECT are core values within our company.
Location
Cherokee Assembly
Time Type
Full time
Contact Person
Keri Martin