"Produce roof systems of the highest quality, in a safe environment, on time and at the lowest cost"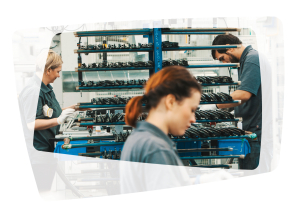 Supervisor must have the ability to mentor and train all employees working in their department. The Production Supervisor must effectively train the Line Leaders along with their employees so they fully understand and can articulate the safety, quality, and productivity targets for their work area.
ESSENTIAL DUTIES AND RESPONSIBILITIES include the following. Other duties may be assigned.
• Actively drive and support the following continuous improvement activities:
- Customer quality improvement efforts
- Cost minimization efforts
- Scrap reduction efforts
- FTT improvement efforts
- Housekeeping improvement plans
- Productivity improvement efforts
- Safety improvement efforts
• Train Line Leaders in the specific tasks associated with the job including safety, quality, and productivity objectives.
• Manage quality containment activities. Ensure effective containment is in place and the process is correctly being followed.
• Assist product teams in problem solving efforts. Effectively utilize support staffs (other departments) to assist.
• Make sure Line Leaders coordinate training and maintain training records that reflect the latest process changes.
• Make sure Line Leaders follow the process documentation and monitor the inbound materials in their department.
• Work with internal and external customers to resolve issues and insure complete customer satisfaction.
• Insure that all members of the Inalfa operating team adhere to the rules of the company.
• The Production Supervisor must be a team builder and recognize the strengths and weaknesses of the team members and make work assignments accordingly.
• The Area Supervisor must work with Material and Warehouse Manager, with Maintenance Manager, and Department and work with Human Resources.
SUPERVISORY RESPONSIBILITIES
Directly supervises the employees in the assembly department. Must have the ability to deal with difficult behaviors or personnel. Must have strong leadership skills and able to make difficult decisions from time to time. Carries out supervisory responsibilities in accordance with the organizations policies and applicable laws.
Other responsibilities may be added, with or without notice in writing, at any time.
Adhere to all procedures as related to the assembly department function.
QUALIFICATIONS To perform this job successfully, an individual must be able to perform each essential duty satisfactorily. The requirements listed below are representative of the knowledge, skill, and/or ability required. Reasonable accommodations may be made to enable individuals with disabilities to perform the essential functions.
EDUCATION AND/OR EXPERIENCE
Associates degree or equivalent; or 2 to 5 years of automotive experience and/or training; or equivalent combination of education and experience.
What can you expect from us?
Attractive working conditions and self-development opportunities.
Short procedures, fast decision making and open communication structures.
Friendly and informal atmosphere.
Innovative leader with a strong drive to win!
FOCUS - TRANSPARENCY - ONE INALFA and RESPECT are core values within our company.
Location
Cherokee Assembly
Time Type
Full time
Contact Person
Erin Dwyer-Wagoner