"Produce roof systems of the highest quality, in a safe environment, on time and at the lowest cost"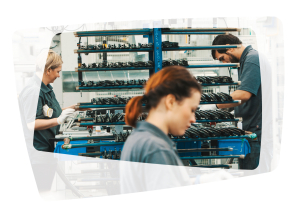 As Global Manufacturing System Specialist you will conduct Inalfa Manufacturing System (IMS) assessments within the plants and identify need for improvements. You provide guidance and recommendations in order to deploy Inalfa standards in a correct way. You are the IMS Ambassador to ensure it is fully understood and communicated. You will drive implementation and application of Lean Principles to production processes with the intent to detect and eliminate waste, improve operational performance and create an environment of Continuous Improvement (CI). In this role you will report directly to the Director Global Operational Excellence in Venray (Global HQ).
Your main tasks and responsibilities are:
Perform annual global IMS assessments in the plants, make sure the system is understood and achieve improvements action plans.
Cooperate with General Plant Managers and Operations Management on regional and global level to create best practice sharing and synergy.
Support operations management to resolve production & quality problems via root cause analysis.
Support regional operations management in evaluating plant processes for continuous improvement opportunities.
Initiate and promote awareness and application of IMS / Lean tools to improve metrics related to safety, delivery performance, quality, productivity, and operational costs.
Train and coach different departments in specific Inalfa Manufacturing System (IMS) topics.
Support global standardization for operational processes (Order to Delivery (OtD).
Lead Kaizen events & support execution of Continuous Improvement (CI) projects across assigned sites with a hands-on attitude (e.g., facilitation, coordination, visualization & communication).
Prepare and administrate appropriate tracking methods and KPI reporting of IMS & CI activities (i.e. project tracking, cost/benefit analysis, visual management, etc.).
Ensure regional exchange of know-how & experiences among Inalfa Operational Excellence members.
Ensure targets for CI savings are achieved at assigned sites, managing the implementation of projects and lean initiatives with teams.
Continuous optimization of manufacturing processes through the use of intelligent control circuits from data acquisition, evaluation and provision for process development and manufacturing.
Support actively digital implementation in operations (Manufacturing Execution System (MES), Inalfa Production Planning and Control (IPPC), Computerized Maintenance Management System (CMMS), IMS Online Tool, SLIM App sharing suggestions, KPIs tracking system integration).
What do we expect from you?
Masters' Degree in Automotive, Mechanical or Industrial Engineering or equivalent.
Minimum 5 years of work experience in operations & plant operative systems. Moreover, automotive experience is a must.
Preferably 2 years of experience involving Lean Transformation.
Experience leading and facilitating numerous Kaizen/VSM events (required).
Extensive experience & knowledge of Lean manufacturing tools in addition to problem-solving methods (i.e. Toyota Production System, Six Sigma, 5S, KAIZEN, POKA YOKE, KANBAN, etc.).
Lean Leader or Black Belt certification (preferred).
Operations leadership / supervision experience (preferred).
Ability to train and coach within all levels of the plant.
Experienced moderators with proven abilities to motivate, negotiate, coach & team build.
Proven ability to build and maintain relations with (remote) colleagues.
Familiar with TS16949 and ISO14001.
Strong communication skills in English, both written and oral.
Ability/willingness to travel internationally (up to 25-40%).
What can you expect from us?
Attractive working conditions and self-development opportunities.
Short procedures, fast decision making and open communication structures.
Friendly and informal atmosphere.
Innovative leader with a strong drive to win!
FOCUS - TRANSPARENCY - ONE INALFA and RESPECT are core values within our company.
Location
Venray, De Amfoor, 2
Time Type
Full time
Contact Person
Malouke Reiniers