"Produce roof systems of the highest quality, in a safe environment, on time and at the lowest cost"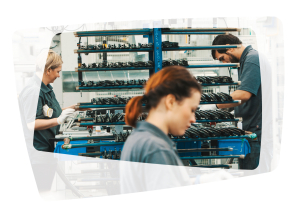 The production manager ensures that the production volumes are matched with the amount of personnel. Allocate resources effectively and fully utilize assets to produce optimal results.
Your main tasks and responsibilities are:
Manage and coordinate production employees by running the process in order to reach expectations in terms of quality, quantity and costs
Focus on continuous improvement of processes
Manage the operations in order to satisfy the customer's request in terms of quality, on time delivery and quantity.
Establish parameters for proper operation of the production processes within the plant.
Observe overall production flow, make analysis and take corrective actions.
Create solutions that contribute to increase productivity, effectiveness and profit, employee´s motivation and customer´s satisfaction.
Assure compliance to Health and Safety and Environment standards and policies.
Participate on preparation of business plans, budgets and forecasts.
Lead team of employees; assure their development, performance management and motivation.
Implement and control the production schedule
Determine the human and the material resources required.
Manage human and material resources to meet production targets.
Work out and implement standard operating procedures for production operations
Determine and implement improvements to the production process.
Prepare and maintain production reports.
Ensure efficient collaboration and co-ordination between relevant departments.
Supports business strategic initiatives.
What do we expect from you?
Educational level /Experience: Master Degree in Business Engineering, Mechanical Engineering, Automotive Engineering or equivalent.
Minimum 10 years of experience in manufacturing environment.
Minimum of 5 years of experience in a leadership role.
Familiar with TS16949 and ISO 14001.
Profound experience with leading a team.
Knowledge of production and logistics processes in the automotive sector.
Green belt certification is required
Project Management such as Prince II is preferred.

Functional Competences and Skills:

Strong communication skills, written and spoken in English.
Good communication skills.
Strong coaching and development skills
Stress resistant
Team Player
Ability to manage possible conflicts
Time-management
What can you expect from us?
Attractive working conditions and self-development opportunities.
Short procedures, fast decision making and open communication structures.
Friendly and informal atmosphere.
Innovative leader with a strong drive to win!
FOCUS - TRANSPARENCY - ONE INALFA and RESPECT are core values within our company.
Location
Września, Białężyce 41A
Time Type
Full time
Contact Person
Katarzyna Zarębska
Operations opportunities you might be interested in... 0