"At Inalfa quality is everywhere,  every day"
VP Global Quality & Operational Excellence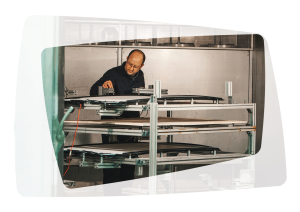 Analytical thinker committed to quality!
As Supplier Quality Development Engineer within Inalfa's global Supplier Project Launch Management team you are responsible for the development of strategic suppliers and will manage ah-hoc quality issues in order to assure that we work with the best in class supplier base. You deploy your analytical skills to deep-dive in the processes of our suppliers and to engage sustainable development. You operate in a challenging but rewarding environment with 2 direct colleagues in a department of 23 people. In this position you report directly to the Supplier Project Launch Manager. As an ideal candidate you will be able to independently define what constitutes success in a given situation, will be able swiftly to define a path towards it and follow through. Interpersonal abilities will be key as you work with other Inalfa departments and suppliers.
Your main tasks and responsibilities are:
Strategic supplier development through prolonged focus
Supplier escalation management - to deep-dive into supplier processes, define root-causes for quality lapses, define a path of improvement and ensure adherence
Define quality risks for Inalfa's production sites (worldwide with a focus on Europe)
Represent the SQD department during audits (both customer and 3rd party)
Perform audits for existing suppliers as well as potential analysis for possible new suppliers
Internal process improvement and process configuration
What do we expect from you?
A driven candidate for whom success is not optional with a finished degree on a BsC, MsC or Diploma level in Mechanical / Automotive / Industrial Engineering or other relevant field.
At least 3 years of experience within automotive industry (OEM or 1st TIER).
Strong knowledge of FMEA, APQP and PPAP/VDA2;
Excellent English
Flexibility – as workload is subject to the occurrence of issues
Eagerness to travel (approximately 20%)
Excellent language skills in English

Preferred qualifications are:
Certified VDA 6.3 auditor
LSS Black Belt or Green Belt (with proven track record of successful DMAIC/DMEDI projects)
Specific knowledge on production processes (machining, plastic injection, metal stamping etc.)
Language skills in German, Chinese, Polish, Spanish, Czech or Dutch would be a big plus.
What can you expect from us?
Attractive working conditions and self-development opportunities.
Short procedures, fast decision making and open communication structures.
Friendly and informal atmosphere.
Innovative leader with a strong drive to win!
FOCUS - TRANSPARENCY - ONE INALFA and RESPECT are core values within our company.
Location
Frankfurt, Waldeckerstrasse 5
Time Type
Full time
Contact Person
Nicole Haacke