"At Inalfa quality is everywhere,  every day"
VP Global Quality & Operational Excellence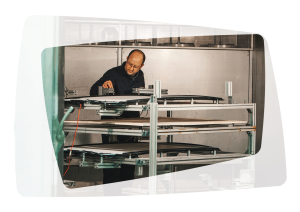 As Advanced Quality Engineer you represent the Inalfa Quality department towards our customers. You are the main point of contact for quality issues and convey progress on ongoing projects. You speak with representatives from all the major car brands with a focus on Europe but with occasional global topics. Activities for our customers are associated with the New Program (APQP) development, construction and verification of prototype parts as well as ongoing production of roof systems. You safeguard adherence to quality standards to ensure a continued customer satisfaction. You will work within the Quality Europe Organization, based at Inalfa's headquarters in Venray - the Netherlands, and report to Manager Advanced Quality and Supplier Quality. In addition to our customers, you will work closely with your colleagues from other teams at the headquarter Quality department (+/-20 people) as well as your colleagues from Business Development, Project Management and Engineering.
As Advanced Quality Engineer your main tasks and responsibilities are:
Maintain excellent relationships with the quality representatives of our automotive OEM customers;
Escalate potential risks within project and quality functions and failures undermining customer satisfaction;
Represent the Quality department during project meetings;
Coordinate cross departmental initiatives to improve quality or avoid risk of quality issues;
Attend on-site at suppliers or customers to review quality issues or improvement initiatives.
What do we expect from you?
You have a finished degree on a BSc level in Engineering or relevant.
You have at least 5 years relevant working experience, preferably in Automotive (OEM or 1st tier), Assembly Operations or other related assembly industries.
Professional service/customer oriented approach with excellent networking skills
Solid analytical skills.
Ability to self-start and self-motivate as you set your goals and outline a plan on how you will achieve it.
Ability to work autonomously but with awareness on when to escalate or inform your manager.
Excellent communication skills in English and ability to understand spoken and written German.
Ability and eagerness to travel (approximately 10% of the time) both within Europe and intercontinentally.
Preferred qualifications are:
Experience with project management, APQP / PPAP / MSA.
Proven track record in working with automotive OEMs.
Experience working in a customer facing environment.
Certified VDA 6.3 auditor.
LSS Black Belt or Green Belt (with proven track record of successful DMAIC/DMEDI projects).
Specific knowledge on production processes (machining, plastic injection, metal stamping etc.).
Languages: Chinese, Polish, Czech or Dutch.
What can you expect from us?
Attractive working conditions and self-development opportunities.
Short procedures, fast decision making and open communication structures.
Friendly and informal atmosphere.
Innovative leader with a strong drive to win!
FOCUS - TRANSPARENCY - ONE INALFA and RESPECT are core values within our company.
Location
Venray, De Amfoor, 2
Time Type
Full time
Contact Person
Malouke Reiniers