"At Inalfa quality is everywhere,  every day"
VP Global Quality & Operational Excellence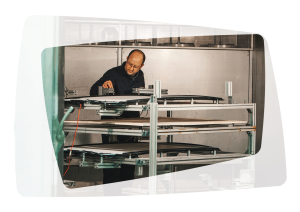 The Quality Technician monitors and audits process/product procedures. Inspects and reviews completed and in-process module assemblies and components. Inspects detail parts for compliance to all drawing quality.
ESSENTIAL DUTIES AND RESPONSIBILITIES include the following. Other duties may be assigned.
• Visual/function verification of completed and incomplete modules to design and quality requirements for all product lines.
• Visual/function verification of components to design and quality requirements for all product lines.
• Process verification of the Manufacturing areas
• Possess the ability to perform dimensional inspection modules and components as required
• Possess the ability to work with the Line Supervisor in root cause analysis
• Perform first article dimensional verification utilizing the appropriate audit gages to engineering/quality requirements
• Verify calibration of hand tools, and assist in completing calibration of fixtures
• Utilize measuring equipment, including; force gage, computer software, optical comparator, gage blocks, micrometers, calipers, torque tester, height gage, and other measurement tools.
• Possess the knowledge and ability to operate and program the CMM and Romer Arm machines.
• Complete capability and gage R&R studies as directed
• SPC data collection and documentation
• File and maintain documentation as directed
• Complete Receiving inspection duties as required
• Possess the knowledge of line equipment and verification checks, including audit table verification
• Maintains all records of product/process audit
• Other duties assigned by the Quality Manager or designee
Requirements
EDUCATION AND/OR EXPERIENCE
•High school diploma is required.
•Associates Degree preferred
•Certified CMM Operator preferred
•Prefer 5 years' or more of experience operating and programming CMM
What can you expect from us?
Attractive working conditions and self-development opportunities.
Short procedures, fast decision making and open communication structures.
Friendly and informal atmosphere.
Innovative leader with a strong drive to win!
FOCUS - TRANSPARENCY - ONE INALFA and RESPECT are core values within our company.
Location
Cherokee Assembly
Time Type
Full time
Contact Person
Erin Dwyer-Wagoner