"Always behind the scenes, always ahead of change"
Manager Recruitment Inalfa Europe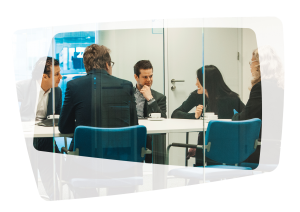 Management of business hardware and software systems, this includes network and server environments along with virtualization, storage and backup systems. In addition responsible for implementing new system environments derived from from strategic direction and/or development of the install bas
Your main tasks and responsibilities are:
Management ofVMWare, Cisco Routing & Switching, VoIP & Wireless, SAN Storage, Disaster Recovery, VPN Services, SQL environments, Exchange and Windows Servers.
Manage IT infrastructure daily operationsserver, network, backups, wireless, security and data center operations.
Management of LAN connections and communications.
Maintain the peripherals, such as printers, Barcode scanners that are connected to the network.
Monitor overall system performance and provide security measures, troubleshooting and maintenance as needed.
Test and evaluate hardware and software to determine efficiency, reliability, and compatibility with existing system, and make purchase recommendations
What do we expect from you?
Knowledge
Computers and Electronics - Knowledge of computer hardware and software, including applications and scripting.
Telecommunications - Knowledge of transmission, broadcasting, switching, control, and operation of telecommunications systems including VoIP.\
English Language - Knowledge of the structure and content of the English language including the meaning and spelling of words, rules of composition, and grammar.
Customer and Personal Service - Knowledge of principles and processes for providing customer and personal services. This includes customer needs assessment, meeting quality standards for services, and evaluation of customer satisfaction.
Engineering and Technology - Knowledge of the practical application of engineering science and technology. This includes applying principles, techniques, procedures, and equipment to the design and production of various goods and services.
Skills
Systems Analysis - Determining how a system should work and how changes in conditions, operations, and the environment will affect outcomes.
Active Learning - Understanding the implications of new information for both current and future problem-solving and decision-making.
Active Listening - Giving full attention to what other people are saying, taking time to understand the points being made, asking questions as appropriate, and not interrupting at inappropriate times.
Complex Problem Solving - Identifying complex problems and reviewing related information to develop and evaluate options and implement solutions.
Critical Thinking - Using logic and reasoning to identify the strengths and weaknesses of alternative solutions, conclusions or approaches to problems.
Monitoring - Monitoring/Assessing performance of yourself, other individuals, or organizations to make improvements or take corrective action.
Operations Analysis - Analyzing needs and product requirements to create a design.
Speaking - Talking to others to convey information effectively.
Systems Evaluation - Identifying measures or indicators of system performance and the actions needed to improve or correct performance, relative to the goals of the system.
What can you expect from us?
Attractive working conditions and self-development opportunities.
Short procedures, fast decision making and open communication structures.
Friendly and informal atmosphere.
Innovative leader with a strong drive to win!
FOCUS - TRANSPARENCY - ONE INALFA and RESPECT are core values within our company.
Location
Września, Białężyce 41A
Time Type
Full time
Contact Person
Katarzyna Dębicka
Staff positions & other opportunities you might be interested in... 1

HR Representative (HR Shared Service Center)
Is it your ambition to work in a HR Shared Service Center? Are you that accurate candidate that we are looking for? In this role you will provide support to the HR department and a...

Venray, NL

Permanent