"Enjoy a great challenge? Join the team!"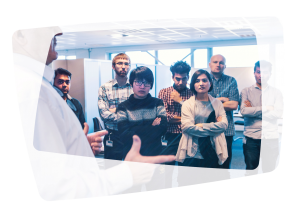 At Inalfa Roof Systems (IRS), the Test department counts approximately 35 employees. The Test department is split up in several teams, each dedicated to a specific customer (e.g. BMW/JLR/Audi).
The main task of the test department is to validate the roof systems developed by Inalfa, according to every possible test category and during all phases of a project.
Working at the Test department as a student will require a pro-active and flexible attitude, and will surely bring personal development and joy.
Tasks and activities department
-Define and execute test plans
-perform analyses / write test reports / advise with recommendations
-Perform root cause investigations
-Read / write (test) specifications
-Develop / define test equipment and/or setups
Your main tasks and responsibilities are:
Within the Test department a small group of three employees is specialized into acoustic measurements. The goal is to prevent unwanted noises during operation of the sun roofs. In case of an unwanted noise, the source needs to be localized to be solved. At Inalfa there is an opportunity to use some very interesting and advanced techniques, including EMA (Experimental Modal Analysis), a sound camera and small shakers.
Your goal will be to investigate two unwanted noises (more information during interview) using these advanced techniques and find solutions to prevent them in future roofs. During the investigations you are free to implement your own thoughts and create test setups by your own idea's to fulfill the task.
Your main tasks will exist of:
- Perform measurements (e.g. modal analysis, acoustic camera)
- Data analysis of measurements (find patterns, correlations, root causes)
- Build test setups
- Document / report / present results
What do we expect from you?
You are a graduation Bachelor student
Your internship lasts for a minimum of 4 months
Languages: Dutch / English
Basic acoustic knowledge (preferred)
Good communication skills
You are a creative, independent and proactive person
What can you expect from us?
Attractive working conditions and self-development opportunities.
Short procedures, fast decision making and open communication structures.
Friendly and informal atmosphere.
Innovative leader with a strong drive to win!
FOCUS - TRANSPARENCY - ONE INALFA and RESPECT are core values within our company.
Location
Venray, De Amfoor, 2
Time Type
Full time
Contact Person
Jamie Hendrix