"Enjoy a great challenge? Join the team!"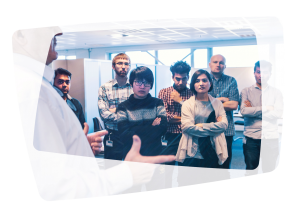 Working at the R&D department of one of the biggest manufactures of roof systems for the automotive industy, what does that look like?
You're going to work with the BMW project team which is located in the R&D department. The team is responsible for developing multiple BMW projects over different regions.
The team is deviated over the regions China and USA. However, all the engineering activities are in Europe. The European Engineering team exists out of 7 engineers from multiple cultures, which makes it necessary that you need to be able to work with different cultures. Communication is very important into the team as well as with the component experts.
The atmosphere into the team could be descbribed as good: everybody is dedicated to accomplice a good result and customer satisfaction without losing the personal interest in each other.
During your internship you will work at the R&D department with the BMW project team where you will focus on building roofs and finding solutions for issue's which will occur during the validation.
It's important for this assignment that you have technical interest and are well motivated. Do you think you have got what it takes?
Your main tasks and responsibilities are:

Your internship assignment consists of the following tasks:
• Support Proto build of BMW project
• Find solutions for issue's which will occur during the validation
• Tolerance stacks
• Digital mockup checks
• Component tests
• Key performance index maintains and develop a good working structure
What do we expect from you?

What do we expect from you?
• You are a MBO or HBO student in Mechanical Engineering, Mechatronics or Automotive
• You have technical interests
• You are well motivated
• You have good communication skills in Dutch and English
What can you expect from us?
Attractive working conditions and self-development opportunities.
Short procedures, fast decision making and open communication structures.
Friendly and informal atmosphere.
Innovative leader with a strong drive to win!
FOCUS - TRANSPARENCY - ONE INALFA and RESPECT are core values within our company.
Location
Venray, De Amfoor, 2
Time Type
Full time
Contact Person
Jamie Hendrix