"Acquiring the right talent is the most important key to growth"
Manager Global Talent Acquisition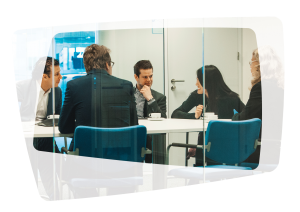 Regional BRM and IT Manager
The regional IT Manager is a key position in delivering IT services to the regional Inalfa organization. As a strategic interface with the regional management, the Regional IT Manager develops and manages the (multiyear) portfolio of initiatives and projects required by the business as well as the development and implementation of solutions and/or services across the region.
The Regional IT Manager leads the regional IT team that supports the regional users of IT services and delivers technology products within regionally executed projects. The regional IT manager is accountable for delivery of regional projects and assigned global projects. Ensures the team executes according to the global IT management processes & policies and realizes the targets as set for given Key Performance Indicators within IT. The Tier 1 services in the regions are: ERP, PLM, regional applications/services and regional infrastructure. As the leader of this team, Regional IT Manager develops the people in his team and ensures a balanced capacity for the execution of the tasks and projects. Works with 3rd parties where needed.
The Regional IT manager may have the role of (regional or global) service owner, thus responsible for the management of a (global) IT service. Is part of global IT management team and regional management team and contributes to strategy of IT and execution of business plan.
Essential duties and responsibilities:
Develop the regional project portfolio based on the regional business, technical and security requirements. Provide input concerning operational maintenance, support and other initiatives for the operational IT budget, the investment plan and for the IT roadmap.

Develop annual budget for regional IT, manage and execute the regional IT budget.

Possess a broad knowledge of most technical and business resources and use them to effectively coordinate team members and external resources.

Contribute to the IT Strategy, reckon with the given policies and Key Performance Indicators such as system availability and customer satisfaction within the assigned working area. Actively follow market developments in IT technology and assess, in consultation with the team and own manager, if and how these are applicable within the assigned part of the Inalfa IT systems landscape

Develop the own organization, department or team, both at an organizational and at a personnel level, according to the (mid/long-term) strategy and vision to fulfill its business needs in the most efficient way.

Implement and follow up the Inalfa IT process policies, define and implement guidelines within the assigned working area.

Organize daily operational activities within the assigned department.

Realize projects efficiently within given targets while making optimal use of the employees and other resources available.

Reports the performance of the assigned part of the IT systems landscape against the given Key Performance Indicators and provide the requested management reports to the regional management team and the CIO.

Supervisory Responsibilities
Reports to: The reporting line is solid to the CIO and dotted to the regional CFO
Works directly with regional management team, global IT directors, CIO and vendors.
Manages IT staff and is responsible for their overall direction, coordination, and evaluation. Also acts as project manager for selected projects.
Supervisory responsibilities include overseeing departmental staff in accordance with the organizational policies and applicable laws. Additional responsibilities include interviewing, hiring, training, employees, planning, assigning and directing work, appraising performance, rewarding and disciplining employees, addressing complaints and resolving problems.
Education/Experience
7-10 years' experience managing business, systems, and teams.

Bachelor's degree in computer science, MIS, or other related technical degree; MBA desirable or equivalent work experience

Experience with implementing and working according to ITIL

Ability to prioritize multiple projects, work under tight deadlines, and handle changing priorities.

Ability to work directly with middle to senior management as well as multiple levels of the IT organization.

Experienced in scoping and defining projects as well as business change management.

Experience with medium to large scale ERP system implementations.

Experience with and understanding of current technical architectures.

Strong negotiation skills

Self-starter ability to lead in a fast-paced, dynamic environment, with little direction.

Results oriented with strong problem solving and analytical skills.

Strong process skills with a passion for quality and continuous process improvement

Ability to ensure high staff productivity and morale through training, coaching, and management.
Functional Competences and skills:
Strong project management skills to deliver IT output and realize business outcome.

Strong communication skills in an international setting at all levels from key users to senior management

Leads hierarchical and virtual teams to high performance.

Is recognized as an IT expert in communication with the business.

Develops, implements and continuously improves processes to achieve results.

Managing Vision & Focus

Customer focus with keen Business Acumen

Sound functional and technical skills

Building effective teams.
What can you expect from us?
Attractive working conditions and self-development opportunities.
Short procedures, fast decision making and open communication structures.
Friendly and informal atmosphere.
Innovative leader with a strong drive to win!
FOCUS - TRANSPARENCY - ONE INALFA and RESPECT are core values within our company.
Location
Venray, De Amfoor, 2
Time Type
Full time
Contact Person
Beena Nair