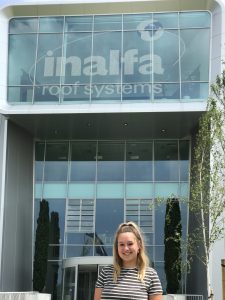 She is now in the final phase of her Internship at Inalfa Roof Systems in Venray, but is sure to leave a lasting impression in the HR department. Natascha (21) is a student human resources at the HAN in Nijmegen, the Netherlands. She learned about Inalfa not only from driving past the impressive building along the highway but also from a lecture in which a then HR intern drew her attention to Inalfa. He told her about the many different opportunities he has as an intern and how he could really design his own internship within the HR department. Natascha did not hesitate and applied. She got a call the next day, an interview a short while after and the day after she was hired as the new HR Intern.
Natascha took the reins right from the start and arranged to meet everybody in the department in her first week at Inalfa. She felt that this was the right step to do to ensure a good working atmosphere and no awkward first days. The HRM Internship has been manned by interns for a long time by the time she started. The benefit of this already established position was that the workload basis was clearly defined and therefore easy to start with. She started with the small things and thanks to her enthusiasm and eagerness to learn she quickly took on more tasks. One of her first tasks were the walk-in hours of human resources in which she was the contact person for any problem or trouble which might have arisen in the business. "The central position within the company really appealed to me, together with the fact conducting these walk-in hours really made learn the tricks fast."
Ten months later and she is now completely comfortable in her position. Shortly after her first steps as an intern, she got into contact with the  sick reports and arranging the celebrations of jubilees. She was able to do more than what was expected of her and constantly grew by taking on new challenges and tasks. It was up to her to decide how much weight she wanted to lift. Natascha feels that she could really design her own internship according to her likes and aspirations incorporating many different aspects of human resource management. When looking at future possible opportunities, she expresses positively. "Having an internship this broad has made me realise certain things about myself, what I want and what I aspire. I have seen positions in HR that I would definitely like to do, such as HR Business Partner or a position in Recruitment." In the end she added that it really depends on yourself and what you would like to achieve as an Intern. With the proper attitude your opportunities really are as wide as the sky.